Firstly, be sure you have read all rules and regulations in the Profile to ensure you understand how this community runs.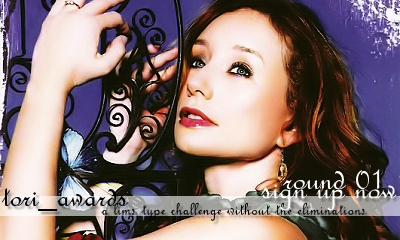 To reiterate, with this community you can sign-up at any point throughout the Round, also, you do not have to participate in each challenge either. No skips necessary, simply enter in the challenges you choose. Of course, the benefit of entering in more challenges of course will result in more points which is the main objective.


Signing up at the beginning of the round will automatically award you 05 points.
To sign-up simply leave a comment with your user name to this post.
We will begin when we have at least 15 participants signed-up.

ROUND 01 PARTICIPANTS
__chimaera__
amberguini
cruel_danu
dana_pants
kittywonderland
gypsyremains
ellie_fo_20
greydruid
kreengles
ladybug1219
m_m_m_mother (
nervous__girl)

luminousdaze
neurotoxicdoll
ninth_lady
urbanstrokes
raisingrrrl
toofarforgotten
vimh_graphics
xperfectlysane
CURRENT CONTESTANTS : 18
PARTICIPANTS SIGNED UP AT BEGINNING OF ROUND : 18

DROPPED OUT

toofarforgotten
ELIMINATED
lost_cosmos